At Roadmap, I'm pretty hands-on in supporting our cohorts of job seekers — which means that I answer plenty of questions from moms looking to transition their careers. The most common concerns I hear, especially from those who have taken any kind of career break, are about resumes. 
"What do I do when my most relevant paid work experience happened a while ago?" 
"I've been working for a long time. How much of my background do I include?"
"I shouldn't mention volunteer roles, should I?" 
And of course, "How do I hide my career break?"
Resume fears make it hard to move forward. We tend to compare our career history to a golden standard, but this is our own fear speaking. There is no golden standard. We all have unique lives, and hence unique career paths. To build the best resume to show your strengths, use my top three resume tips for moms pivoting careers:
1. Focus on key results 
In my classes, I talk a lot about key results, or brief statements that show the impact of work you did. Your career experience on your resume should lead with results first. It goes like this: Results – Action – Context. The bullet points in your work history (which CAN include volunteer work!) should first quantify the value of your work. Then you can explain the action you took and the context. 
For example:
● Ran email marketing campaigns using Hubspot, developed copy, analyzed analytics, and advised marketing leadership
becomes
● Increased website traffic by 6% within 3 months by developing and executing email marketing campaigns. 
See the moms' resumes below for more examples of key results. To develop your key result bullet points, avoid talking about busy work and ask yourself questions like:
What did I own?
Why did I do the work I did?
What was the impact of my work?
2. Keep it to one page
Your resume will get better results if it's all on one side of one page. Essentially, you're providing a summary of your selling points to entice the recruiter to contact you. So you only need to show the best of your work, not the whole story. 
Also, recruiters scan each resume for only about 5 seconds before going to the next one. So it's definitely most effective for you to have all of your important information — contact information, skills, work history and education — visible at a glance.
3. Own any time you've taken off to spend with your family
Don't hide it! Time you've spent away from work does not dictate where you go next in your career. Give it a name and a job entry, and if appropriate, populate it with key results. Here's how some of the moms in our programs have done it:
The mom in this first example states her skills and achievements before her work history to make a strong impression before people see her career break.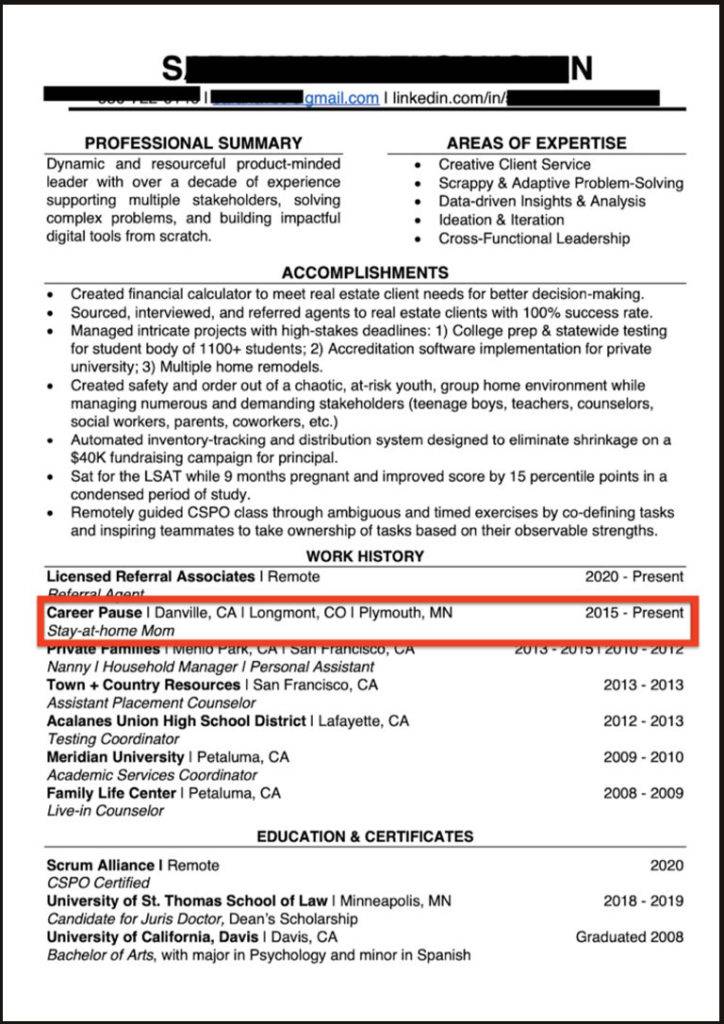 This mom, who homeschooled a special needs child, defines her career break in terms of key results that she achieved as a homeschool mom deeply involved in the community.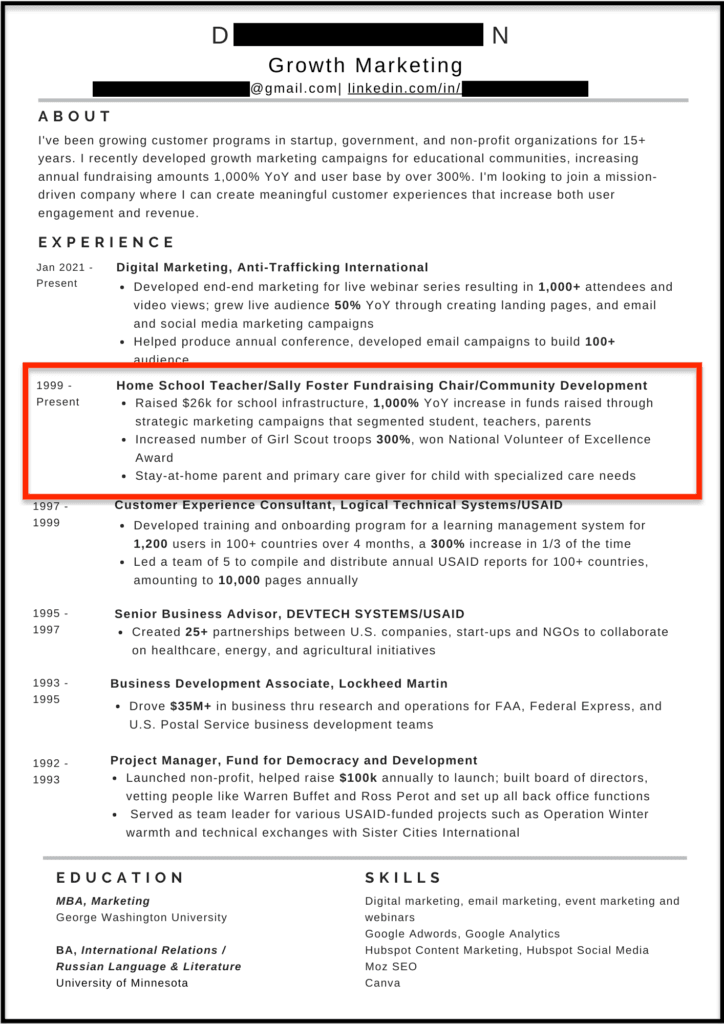 If you've had special circumstances that called you away from your career, be clear about them. This could be medical, caregiving, or other unique family circumstances. This mom couldn't work because of immigration processing and stated it clearly on her resume.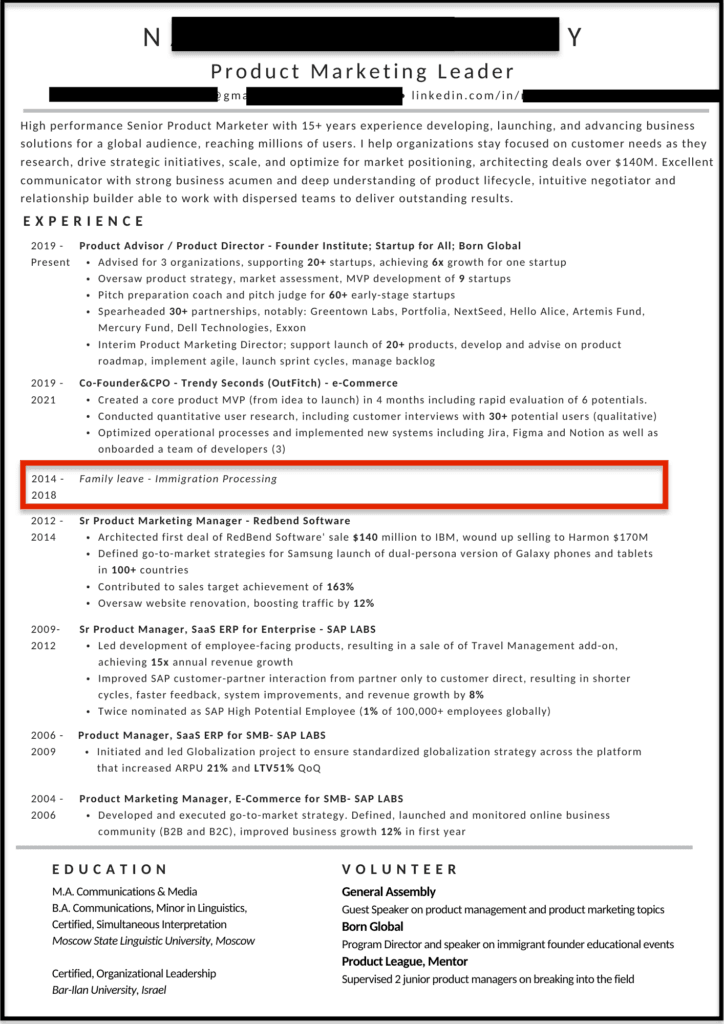 Regardless of the details surrounding your work history, you can own and promote your experiences, skills and accomplishments on your resume using key results. People are hiring you for the value you bring, and time off — or any other anomaly in your career trajectory — does not take away from that. If you're still not sure how to frame your work history, come join us and we'll do it together!
Malinda Coler is Cofounder and CEO of Roadmap, helping underrepresented people pivot their careers.
More articles like this: